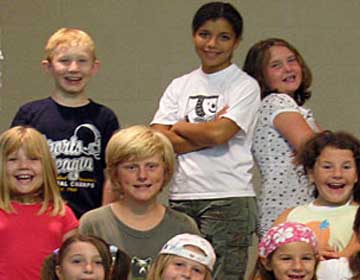 Registration
GBTC offers acting, drama and theatre arts programs for young people throughout the year.
GBTC's enthusiastic, caring staff create a warm, supportive environment where students will feel at home, and be ready to explore and discover.
Through the Fall, Winter and Spring, we provide programs of classes, for ages 6 to 8, ages 9 to 13 and a specially designed program for ages 3 to 5.
Our programs for ages 6 to 13 include plays, mime, improvisation, theatre games, musical theatre, work with simple sets and costumes, and a concluding public performance. In selected programs we also offer specializations such as storytelling, mask-making, rap, comedy, stage combat and video.
Our full-day camp programs, offered during July and August and also during March Break, also include outdoor activities, games and sports. In addition, we offer preschool camps (full day or half day) for campers age 3 to 5.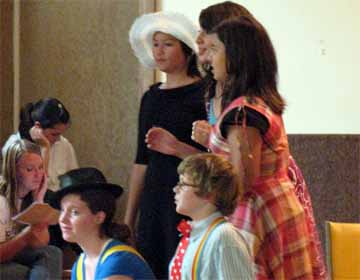 Acting Classes
Our ongoing program of classes provide an excellent, graduated approach to developing skills and confidence in our young actors and performers.
Our young students (ages 6 to 8) work with voice, movement, simple songs and choreography, traditional stories, legends and folktales, and costume elements, to develop basic drama and self-presentation skills.
Intermediate-level students (ages 9 to 13) will continue their development through scripted and unscripted work, playwriting, improv, blocking, the elements of stage presentation, character development, and the basics of musical theare.
Preschool-level students (ages 3 to 5) work with imaginative play, storytelling, movement and music to develop physical, social and personal skills.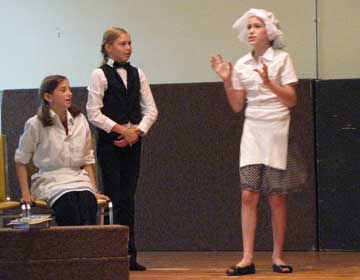 Programs For Schools
We are looking forward to bringing the GBTC 'TIES' PROGRAM to your school. Through these workshops, we aim to develop a joy in and appreciation of drama: to inspire, excite and empower your students, leading them to use the basic skills they will have acquired in producing and performing their own plays. The students will be introduced to theatre games and exercises, stage direction, tableaux, blocking, building dramatic scenes, role-playing, storytelling, narrative and more!
GBTC has offered programs in schools across Ontario for many years; our programs are developed in adherence to the most recent guidelines of the Ontario Arts / Drama / Dance curriculum